Maryland Saddlery Fitting Guide
We all use bits, but do you know how your bit works, or why your horse needs it? Our bit blog demonstrates why using the correct bit, and understanding the mechanism behind it, is so important when riding and training your horse. Hope explains how horses learn by repetition of action and reaction, the way race horses can be retrained, what basic riding exercises you can do to help your horse be more supple, and much more!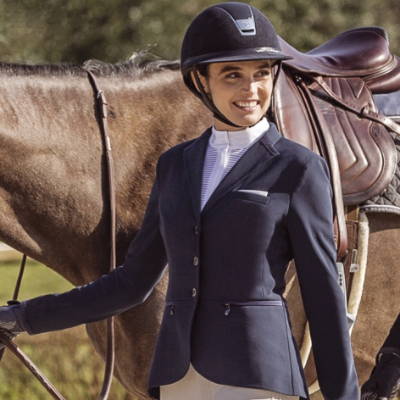 A show coat or jacket is the single most important item of competition apparel. Properly fitting a woman's jacket can easily improve how you are judged in a competition. Ladies' show jackets are based on a traditionally-cut men's suit coat. In the original European jacket designs the horse show coat had 3 front buttons and a double vented back, tailored with a narrow waist and broader shoulders for ease of movement. Though traditionally made from wool, many modern coats are made from highly technical fabrics that are lightweight and wick away moisture like the Grand Prix show coat. These "tech" coats are machine-washable and mostly available in navy and black, though they can be seen in a range of colors. Women's show coats are typically conservative; black, dark gray, navy and occasionally hunter green. With consistent color and fit across all riders in a class, the judge is then free to focus on performance rather than appearance. Here are our 8 steps to fitting show jackets. 
The need-to-know about Tall Boots:

When I began riding in the late 1960's tall riding boots were not so tall. You were lucky if the stock boots available went most of the way up your calves. The style was a dress boot that was so baggy around the calf that they had to be held up with a boot garter strap. You could easily slide your hand down inside your boot along the side of your leg. Thank goodness by the mid-eighties, the "off-the-rack" boots became more form-fitting and field boot with laces in the instep really came into vogue. Field boots were easier to get into especially if you have a high instep or long heel. The lacing at the ankle allowed your foot at to pass more easily through the narrowest part of the boot. The laces were then tightened up for a custom fit. Almost all tall boots are now manufactured with a zipper, like boots from Tredstep or Ariat. Riders are able to get a better fit through the ankle and no longer have to struggle with getting their boots on and off. Learn the 7 steps to a great tall boot fit.