Shop Equestrian Helmets at Maryland Saddlery
ASTM/SEI Certified Riding Helmets
Are you looking for a new helmet? Do you want to find the perfect fit, style, and price range for your riding needs? If so, you've come to the right place!
At Maryland Saddlery, we sell a variety of helmets from top brands like One K, Charles Owen, IRH and Ovation. Whether you need a helmet for schooling, showing, eventing or trail riding, we have something for everyone.
But here's the catch: we don't sell helmets online. Why? Because we want to ensure you get the best fit possible for your safety and comfort. That's why we invite you to visit one of our three locations in Maryland and Delaware, where our friendly and knowledgeable staff will help find the perfect helmet for you.
Finding the Perfect Fit
We'll measure your head, adjust the straps and padding, and let you try on different models and sizes until you find the one that suits you best. We'll also give you tips on how to care for your helmet and when to replace it.

We know that buying a helmet is an important investment, and we want you to be happy with your purchase. If you're not totally thrilled with your new helmet, leave the tags attached and contact as us as soon as possible. We will take care of you!

So don't wait any longer. Come to Maryland Saddlery today and get your helmet fitted by the experts. You'll be glad you did!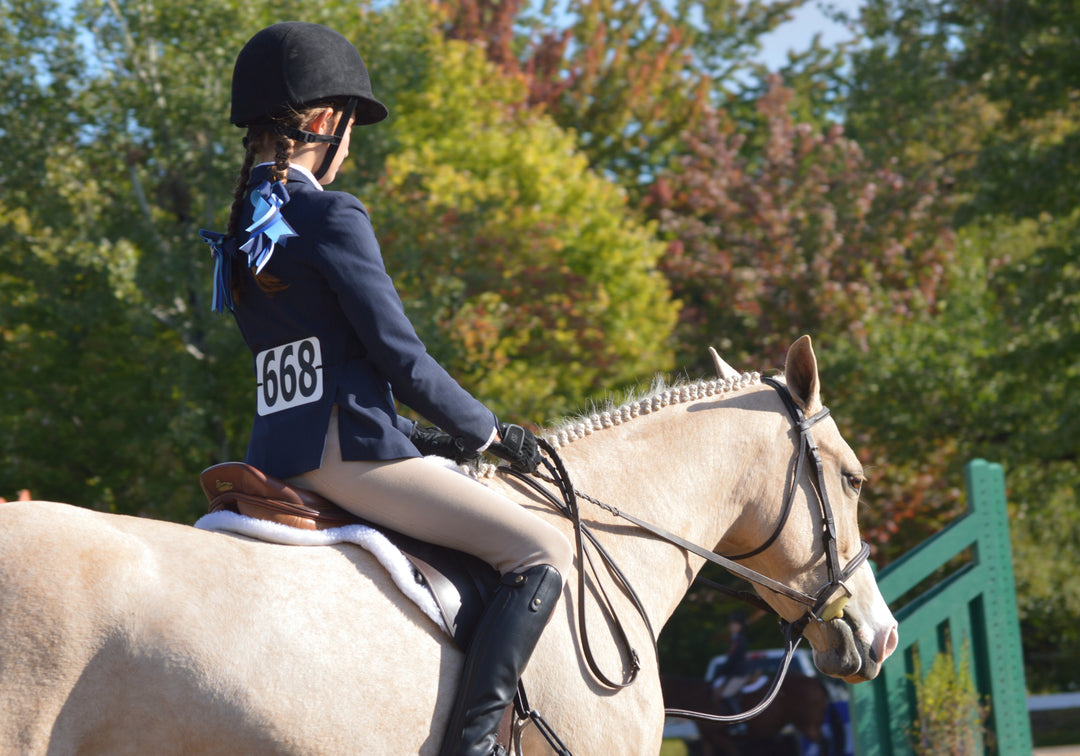 Have questions? We have answers.
We regularly stock helmets from Charles Owen (AYR8, JR8), One K (Defender and Avance with MIPS), Ovation (Deluxe Schooler, M-Class with MIPS), and IRH (EquiPro II, 4G). We also receive helmets new with tags from our overstock partners, which can include models from KASK, GPA, Samshield, Tipperary, Troxel, and more. Please call us to check our current inventory before you visit, our staff is happy to assist you.
Use this text to answer questions in as much detail as possible for your customers.
You should store your helmet in a cool, dry place away from direct sunlight and heat sources (not in your car!) You can wipe down the exterior of a dirty helmet with a damp cloth and mild soap, but always avoid using harsh chemicals or solvents. You should also check your helmet for any signs of damage or wear and tear, and replace it if necessary. Many helmets now include removeable liners that can be easily cleaned in the washer. There are also some great deodorizers than can keep your helmet fresh between rides (like this one from The Infused Equestrian).
Generally you should replace your helmet every 3 to 5 years, or sooner if it has been involved in an impact or accident, or if it shows any signs of damage or deterioration. Always refer to your helmet's manufacturer for their replacement guidelines and warranty terms.
Unfortunately we are unable to accept helmets on consignment for safety purposes. All of the helmets we sell are new with tags.
No appointment is needed for our expert staff to fit you or your child for a helmet. If there is a specific brand, model, or size of helmet you are looking for, or you'd like to check inventory, please call us before visiting 410-771-4135.
If you'd like to place a special order, please email or call us to discuss at info@marylandsaddlery.com or 410-771-4135.